Riding in paradise
Through diversity, Bohinj offers a lot of terrain suitable for beginners and experienced riders. Cross-country tours are diverse, comprising of rides to small hills (Senožeta, Dobrava), Lake Bohinj or rides on pastures on the Pokljuka plateau. All terrain ensures magnificent views of the Bohinj landscape and hills.
Experienced riders can choose to ride on Icelandic horses or other horses.
How to start
Considering the breed's spirited temperament and large personality, beginners can quickly (after introductory riding in manège) learn the basics of riding. Beginners are recommended a 2-hour ride – they can learn riding in manège and also try cross-country riding – to the nearby Senožeta hill or Lake Bohinj. If you ever had a bad experience with horses, Icelandic horses are the perfect therapists for overcoming fear.
Winter
RIDING IN WINTER IS A SPECIAL EXPERIENCE!
The ranch is open all year round, so you can ride any time. In winter (if the conditions are favourable), we can spice up our offer with a horse-driven cart and an adrenaline attraction called skijoring, where a person on skis is pulled by a horse.
Skijoring
Riding on a horse-driven cart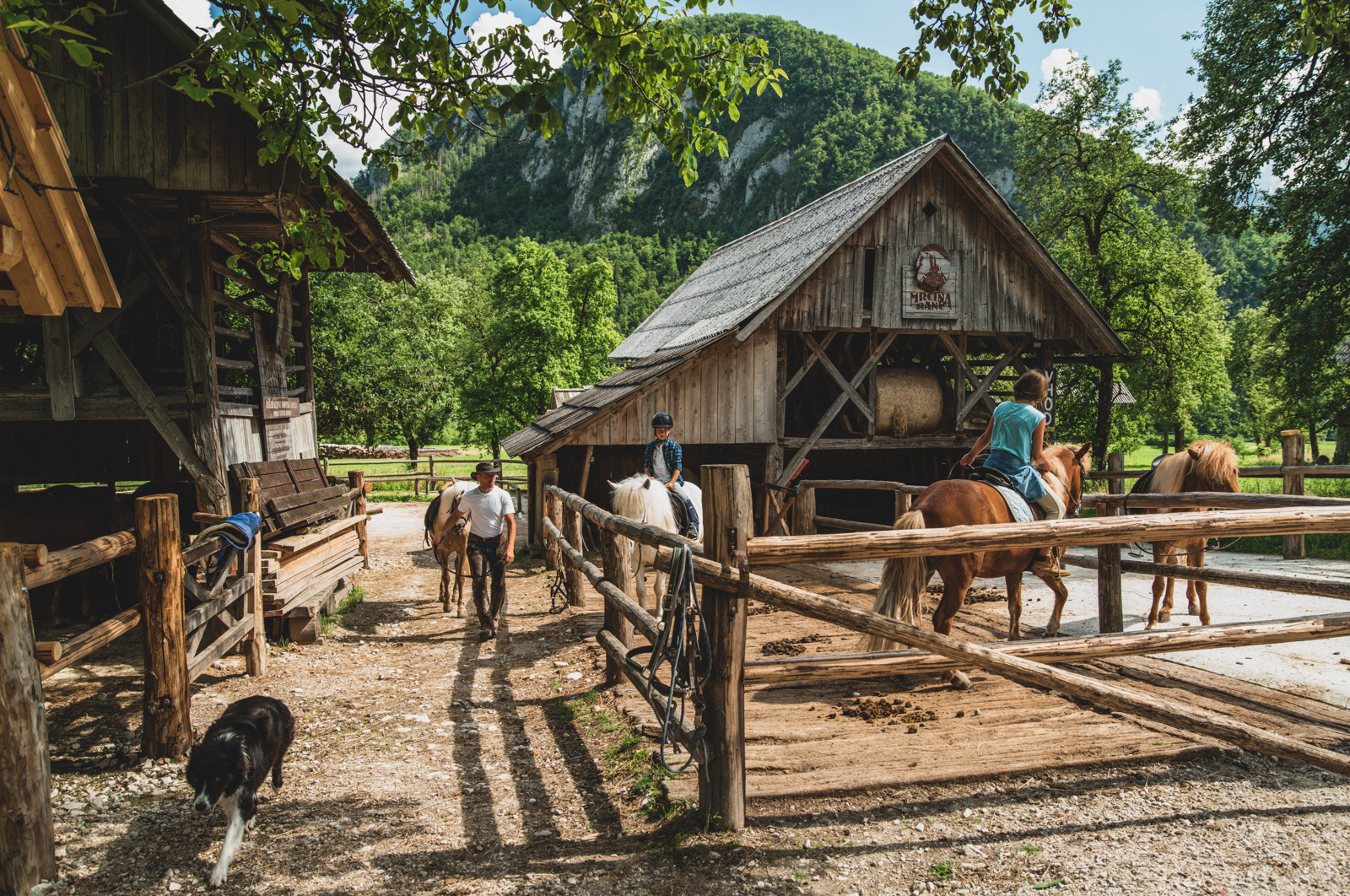 Rides in carriages and rides on a cart
We offer carriage rides for up to three persons. We take you to Lake Bohinj.
You can also try to ride a hay cart for several persons and experience the rural life.
WHEN CAN I RIDE AND WHAT DO I NEED TO RIDE?
Information
Cross-country riding is possible all year round. In summer, we ride in the morning and in late afternoons. In high season (July, August), horses have an off-day once per week, usually on Mondays, but it mostly depends on the weather.
Prior reservations must be made for riding, so you can call ++386 41 790 297 or also come to the ranch and make a reservation in person.
All tours are guided.
Equipment: long trousers (jeans) and hiking shoes. Clothes must be appropriate to the weather conditions and season. In winter, do not forget gloves, a cap or head band and warm clothes.
You can rent a helmet and raincoat at the ranch.
Maximum weight of the rider: 90 kg. Riding is not appropriate for pregnant women.