Riding for beginners
Considering the breed's spirited temperament and large personality, beginners can quickly (after introductory riding in manège) learn the basics of riding. Beginners are recommended a 2-hour ride – they can learn basic horse handling and riding in manège and also try cross-country riding – to the nearby Senožeta hill or Lake Bohinj.
Riding for children
The relationship between a child and horse gives children the possibility to feel a genuine contact with this noble animal. This has a positive effect on the child and there is nothing more beautiful than seeing a happy and satisfied child's smile on a horse's back. Iceland horses are also special due to their kind and pleasant character, therefore the first steps on a horse's back are quite a safe experience.
We offer walks in nature on horses (saddles with handles for greater safety) with guides. 15-30 min.
Family riding
Riding is a great idea for a family tour. Regardless of your level of experience with horseback riding, our team will prepare you well for a one- or two-hour tour. Iceland horses are perfect for children and also for adults, so the entire family can try riding them. Discount for groups and families: 15%.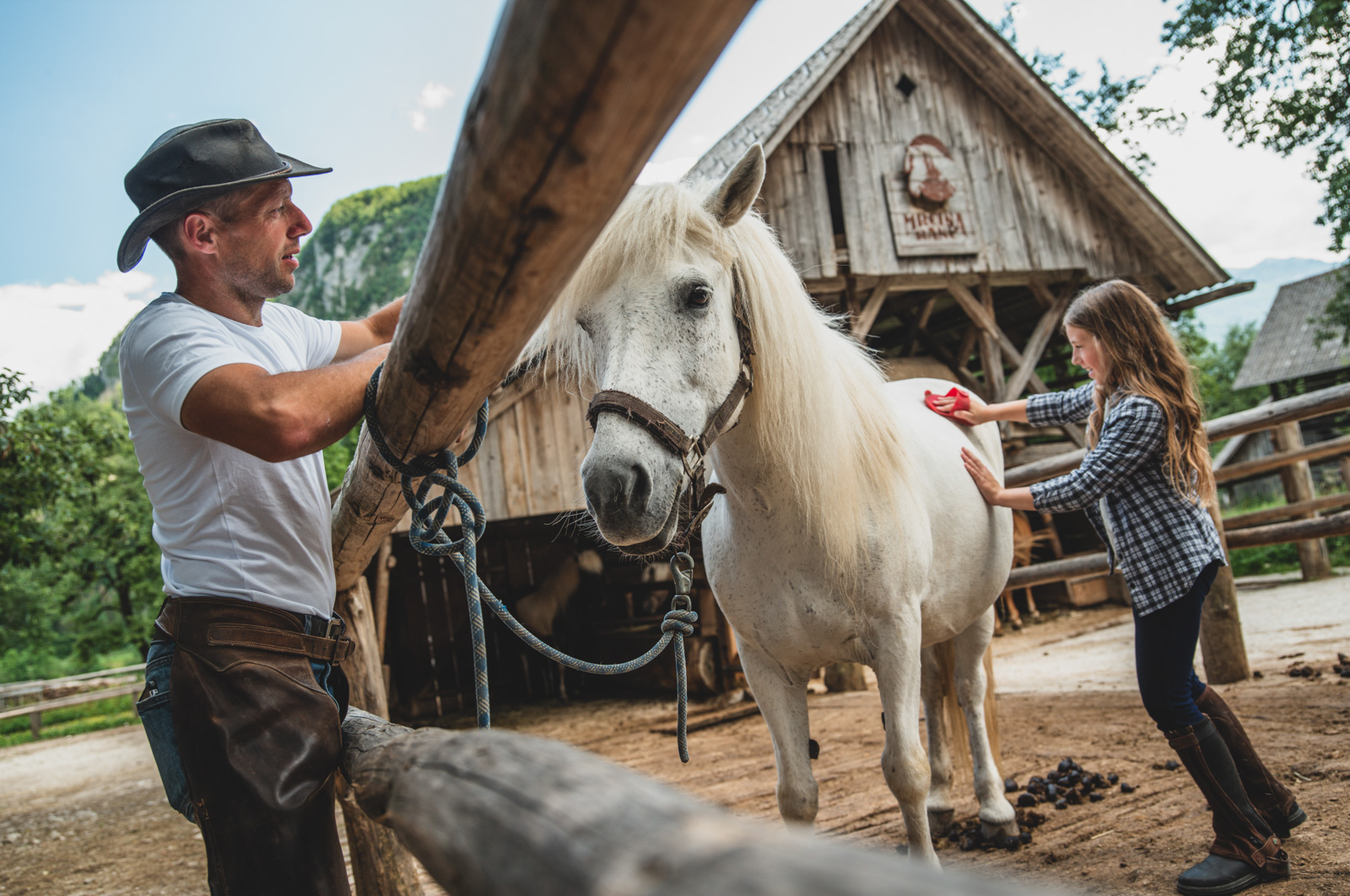 Riding school
Riding school includes preparing the horse for riding and learning the basics of riding in manège or cross-country riding. Recommended for children, older than 7 years, depending on their age.
Card 20 hours – 20% discount
WHEN CAN I RIDE AND WHAT DO I NEED?
Information
Cross-country riding is possible all year round. In summer, we ride in the morning and in late afternoons. In high season (July, August), horses have an off-day once per week, usually on Mondays, but it mostly depends on the weather.
Prior reservations must be made for riding, so you can call ++386 41 790 297 or also come to the ranch and make a reservation in person.
All tours are guided.
Equipment: long trousers (jeans) and hiking shoes. Clothes must be appropriate to the weather conditions and season. In winter, do not forget gloves, a cap or head band and warm clothes.
You can rent a helmet and raincoat at the ranch.
Maximum weight of the rider: 90 kg. Riding is not appropriate for pregnant women.